Regular price
$200.00 TTD
Regular price
Sale price
$200.00 TTD
Unit price
per
Sale
Sold out
The crystal's name comes from its composition. Auralite 23 stone is, in fact, composed of a mixture of amethysts and 17 of a possible 23 minerals such as Titanite, Cacoxene, Lepidocrite, Ajoite, Hematite, Magnetite, Pyrite, Goethite, Pyrolusite, Gold, Silver, Platinum, Nickel, Copper, Iron, Limonite, Sphalerite, Covellite, Chalcopyrite, Gialite, Epidote, Bornite, Rutile.
About Auralite-23

Brings mental clarity, focus, awareness and self-confidence.
Removes any attachments to self-limitation.
Helps us to make peace with our past and present, and then to focus all of our energy on moving forward into a more beautiful future.

Increases psychic gifts and also teaches us how to better protect ourselves energetically.
Measurements & Features
Genuine Auralite-23 Pendant with Platinum coloured Brass Findings. Pendant Size: about 2cm long, 1cm wide. Chain is Platinum tone Stainless Steel about 18 inches long. Metals in this item cannot be worn by persons with metal allergies and are not tarnish resistant. Each pendant is unique varying in colour tones and patterns. Packaged in a complimentary gift box. 
Crystal Information & Healing Disclaimer
Crystals have imperfections (fractures, chips, hollow parts) and other inclusions, which are perfectly natural and make each of them unique. All information about the metaphysical properties of the crystals is for reference only. It is a combination of research on how the gemstones have been used by different cultures throughout history. We do not recommend using crystals as a substitute for conventional medical or psychological treatment and do not claim they cure or heal medical conditions. 
Is our gemstone jewellery right for you? 
Our jewellery is made with natural crystals and therefore imperfections are to be expected. After all it is evidence of the stone's authenticity rather than it being a man-made material. If you are looking for a genuine crystal that is flawless you won't be able to find one in this price range. If want to choose the exact crystal(s), then online shopping may not be the best platform for your shopping needs. We recommend shopping in person if you are very particular about the type, colour, shape or size of your crystal. 
Shipping Information and Store Policies
Please read before making a purchase. By placing an order you acknowledge all product information and agree to all store policies. Find them here.
Share
View full details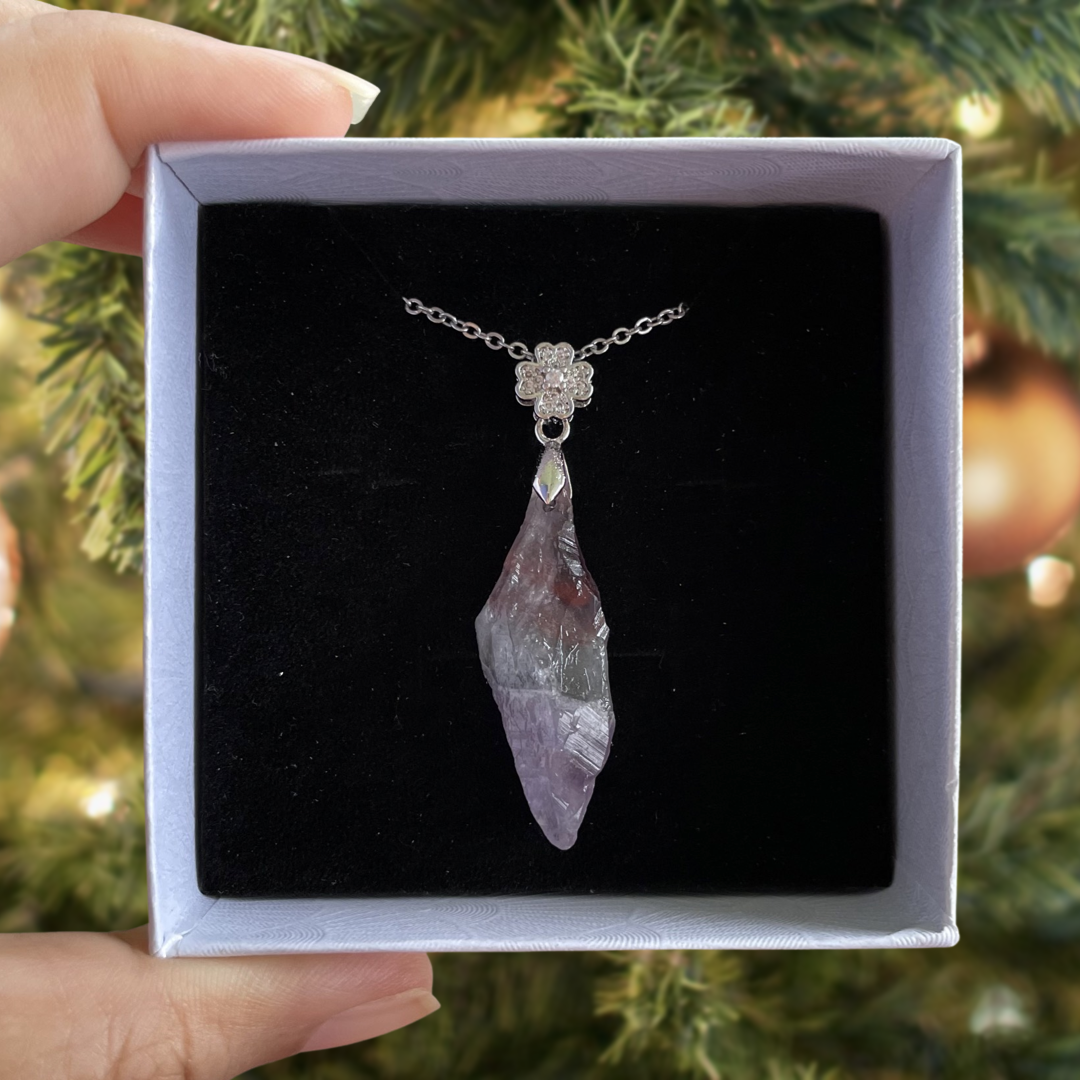 Auralite-23 Raw Pendant Necklace
I love this necklace, it's exactly the same as it looks in the photo. My only wish is that the pendant could remove from the chain so that I can wear it on something else. Other than that, it's amazing and also has great energy👍🏾